How to wear latex in real life
Vogue published an article on wearing latex in everyday life as Maria Ward, one of their writers, wrote about her date in New York while sporting a latex bra. Her day started with visiting The Baroness, a NY staple for the latex fashion scene, where she was advised on what to buy and where to wear it.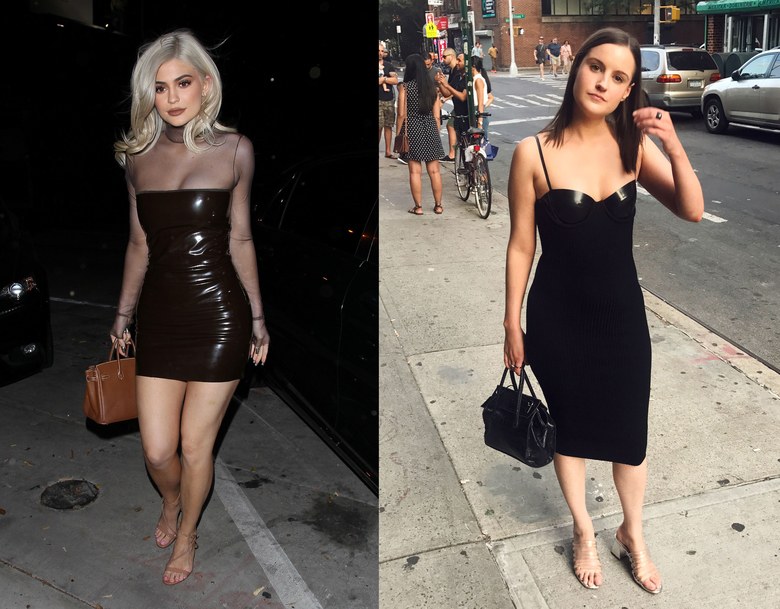 Put simply, could someone who has never owned a scrap of latex (let alone been covered in it) pull it off? In an attempt to find out, I test-drove a racy and rubbery look from Kendall and Kylie Jenner's eponymous label on a recent Saturday night—and on a date, no less.
After receiving advice on how to put on a latex garment as well as how to apply shine to give it that high-gloss sheen, the Baroness staff tell Maria the best places to wear latex.
When a shopper is brand new to latex, the first thing The Baroness asks is what they're going to do with it, followed by where they're planning on wearing it. "If you're going to go home and have sex with your boyfriend, it's obviously going to be different than if you're going to the opera
Maria was on her third date with a 20-something finance worker and on her list of approved places to wear her latex bra with LBD were locations that had air-conditioning and a ulta-sexy vibe.
No one wants to be That Girl who shows up at a family-style restaurant in head-to-toe latex. So when Jake suggested we go for sushi at a casual spot serving hand rolls under bright lighting, I strategically proposed a Lower East Side boîte called Beauty & Essex instead—not for its directional tapas, but for its dim mood lighting. In short, it just went better with my outfit.
Maria noted that she seemed to get preferential treatment while wearing latex, including additional stares / gawking / compliments from strangers as well as preferential restaurant seating and a round of free drinks at the bar.
While initially nervous about how her date would react to her outfit, Maria found herself engrossed in fun conversation about the material and her experience for the better part of her evening.
My initial trepidation, and his, had turned into acceptance. In latex, as in life, it just takes time to lean into the shine, and by the end of the night, I was due for a polish.
Latex can be worn as part of your everyday clothing if you so choose. It doesn't have to be limited to bedroom or costume attire. Kim Kardashian regularly wears it, although you don't have to be a social-media icon to follow her lead.
High-shine leggings have become so popular that it would be easy to sport a pair of latex leggings in the spring or fall. Mixing in a latex dress or top requires a bit more attention to your overall look and the event you are attending, however, it's worth the extra attention and enjoyment of wearing this unique material.
A latex bodysuit mixed with a pair of jeans or otherwise dull skirt spices up the outfit significantly and can be worn in summer seasons as long as your not going to be outdoors the entire time.
And remember, if you want to make your own latex clothing, MJTrends has all the latex garment-making supplies that you need including latex sheeting, latex adhesive, seam rollers, rotary cutters, bra-wire, buttons, custom-fit sewing patterns and more. You can also find helpful tutorials on how to work with latex at: www.mjtrends.com/articles.php
If you would like to read the full write-up by Maria about her experience wearing latex in public on her date you can find the article at: https://www.vogue.com/article/how-to-wear-latex-trend-in-real-life-kendall-kylie-jenner-fashion-line
---
Matching Products:
---
---
LEAVE A COMMENT
---